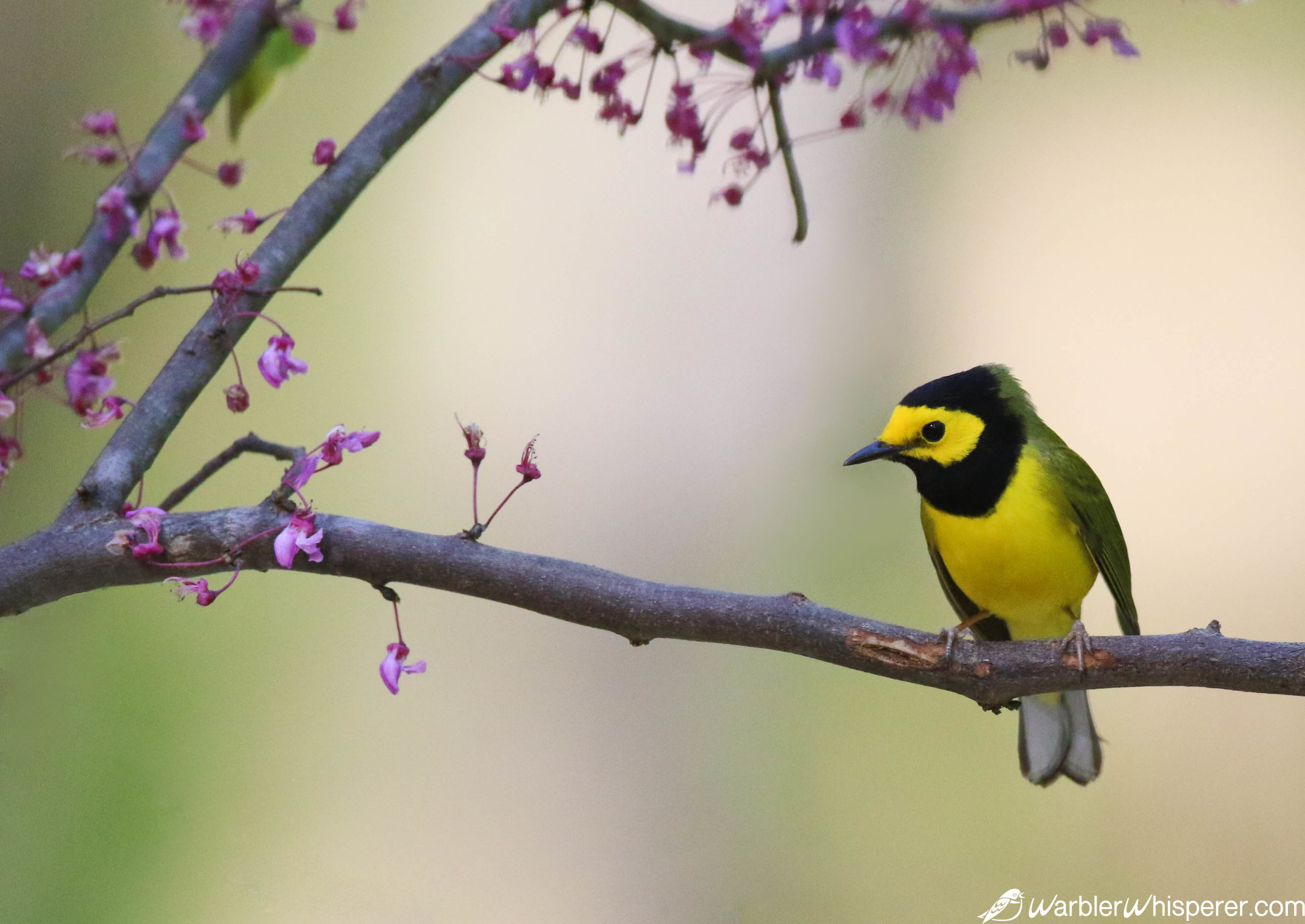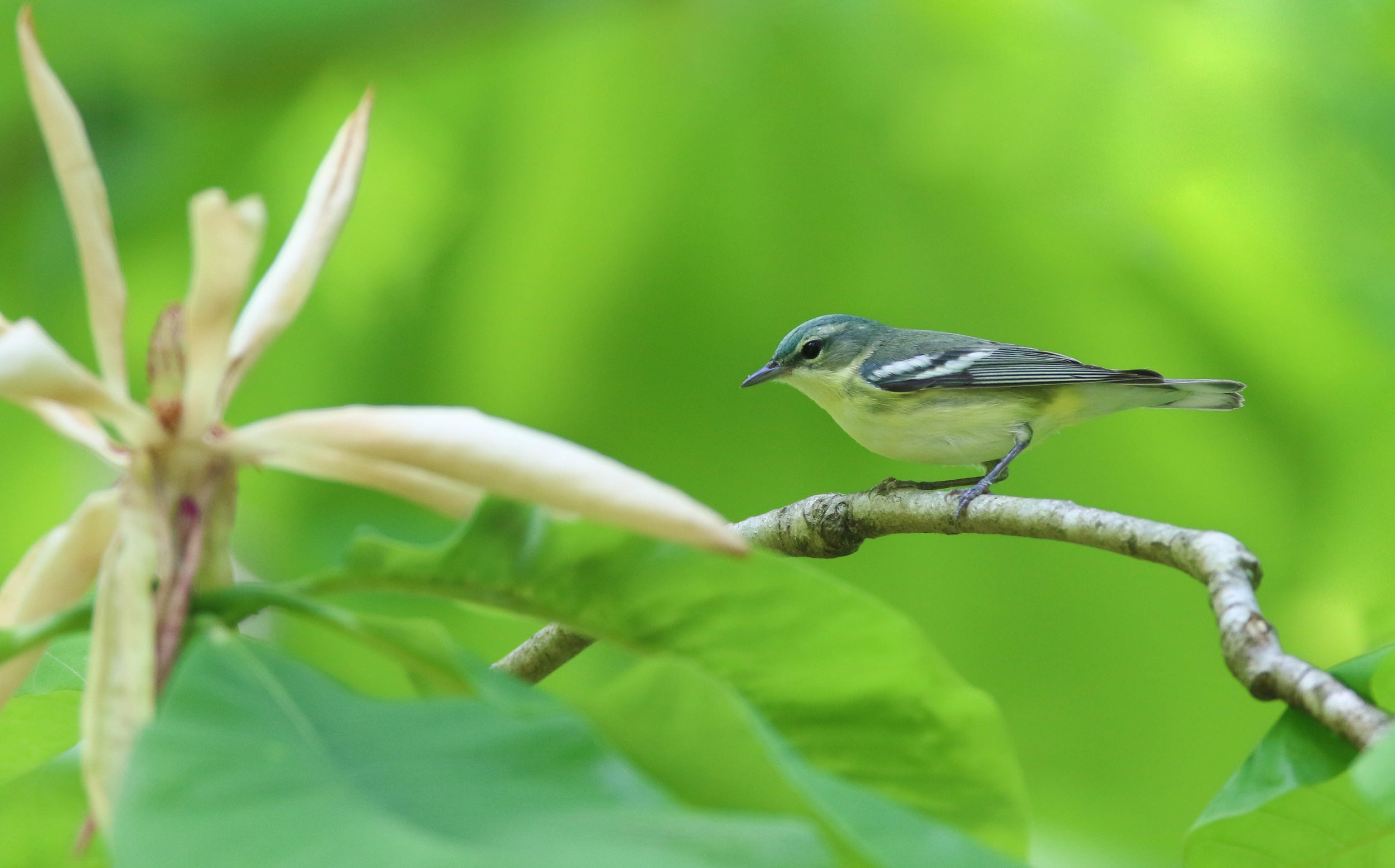 • Two day offerings for one participant and is ideal for beginners who can elect to bring a second participant who will pay just half price •
TOUR DATES:
April 20-21, 2020 (Monday and Tuesday) or
April 23-24, 2020 (Thursday and Friday)
GROUP SIZE: 1 PARTICIPANT PLUS LEADER*
Cost: $800
* $300 refundable deposit saves your dates and the balance is due the first day of the trip. A second participant if you so elect is half price (see Terms Of Use) .
NOTE ABOUT THIS TRIP:
The Tennessee trip sites are in rural hill country that is rather unique in warbler diversity. The main target warblers are Cerulean, and Blue-winged warblers which despite radically different habitat requirements are found in quite close proximity to each other. This is beautiful country that is seldom birded and many other species are also abundant (see species list below).
This location is about a three to four hour drive from Atlanta and about an hour's drive from Nashville. There is an option to add a third day to a different location for an additional fee to target additional species (see species list below). That optional location is about a two hour drive east of the main sites. Please discuss that with Gene if you are interested in adding on a third day.
Food, lodging, and transportation to location are not included; on location up to one participant can ride with me, possibly two.

TESTIMONIAL FROM 2019:
I used Gene Koziara as a bird photography guide for warblers in late April 2019. We went to Tennessee for two days and saw/photographed about nine warbler species. Gene has excellent ears and knowledge of warblers' songs. I was able to get good photos of the primary target Cerulean as well as Blue-winged, Kentucky, Hooded, and Worm-eating warblers. I recommend Gene for his expertise with finding as well as photographing these birds. I look forward to future trips with Gene to other areas with other target birds.

Al Mercer.
TARGET SPECIES, PRIMARY SITES:
Cerulean Warbler C (Common)
Blue-winged Warbler C
Kentucky Warbler C
Hooded Warbler C
American Redstart C
Northern Parula C
Prairie Warbler C
Louisiana Waterthrush C
Worm-eating Warbler U (Uncommon but we usually find a few)
Black-and-White Warbler U
Ovenbird U
TARGET SPECIES, OPTIONAL DAY THREE SITE(S):
Cerulean Warbler C
Blackburnian Warbler C
Black-throated Green Warbler C
Chestnut-sided Warbler C
Golden-winged Warbler R (Rare-I had one here in a half day's work last season)
Many of the Primary Site(s) species can also be found at these sites but the listings above would be reason to consider adding this third optional day.
LEADER: GENE KOZIARA
Gene, known as Geno K on Flickr, has intimate knowledge of the above primary sites and species, having worked those areas each spring for a number of years. He knows the songs and where at those sites we are likely to find the target species. The optional day three site(s) are new to Gene as of Spring 2018. A high clearance vehicle is required only for the optional day three site(s) but again one, possibly two participants could ride with me from the hotel.
He will use calls when he deems appropriate, but you may be surprised about the call techniques and how sparingly they may be used. The focus will be to provide opportunities for quality images, with an emphasis on composition and warblers in song whenever possible. We will start around sunrise and work until the mid-day light gets too harsh. This Tennessee trip lends itself well to a nice small town restaurant stop for lunch. We will shoot again from later afternoon until we don't have usable light. Our goal will be to have a quality shoot of two to four warbler species per day depending on the sites visited and how we are doing. The emphasis will be on quality composition, and in some cases we may shoot several birds of the same species in various settings.


REQUIREMENTS
I will discuss camera settings and the composition goal(s) for each individual shoot during the set-up, but please understand that this trip is for folks who are already familiar with their camera and lens and want to experience and enjoy warbler photography. A long lens is essential for warbler work as warblers are small birds. I use a 600 mm and a crop sensor camera (Canon 7dMK2) so I am shooting 900 mm equivalent. A 500 mm lens or minimum 400 prime lens is essential for best results. A crop sensor camera and/or a teleconverter will extend reach. A teleconverter to extend reach can be used in good light situations, but it may slow image acquisition too much in more overcast or shaded situations. The faster your lens, the better for warbler photography. You should have the skill with your gear to quickly focus on a small bird, as warblers often tend to move quickly. Some birds and species will be more cooperative and forgiving than others, but the ability to quickly focus on the bird will provide far more satisfying images. It is important to follow my lead as I work to get a bird in. Warblers can be very sensitive to moving photographers and noisier gear. Knowing when to pull the trigger is important, especially when attempting singing shots. I will attempt to coach how to better anticipate warbler movement and thus minimize unproductive shooting.

DISCLAIMER AND A BIG ASK FROM GENE
This Warbler Photo Journey will require little walking with most shooting occurring along the roads within a hundred feet or less of our vehicles. There will be more car traffic with this trip than the others but it is generally infrequent. We will be in rural areas and will do what we can to respect the local residents. As with any outdoor adventure watch out for briars, possible biting insects, and be alert for uneven and slippery ground. Plan to put in a long day. Some of the species on this Photo Journey are sensitive species, and Gene is asking that all participants keep locations for this Photo Journey strictly confidential. Please do not eBird these locations, and please do not share the locations with other birders/photographers. If you don't think you can do that, please don't sign up, for this trip. After signing up you will receive a more detailed itinerary, including hotel suggestions and hotel locations. Thanks for your understanding.
MOST IMPORTANT
The goal is to have fun and work as a team to maximize everyone's Photo Journey. I need you to be open and honest with me as we regularly assess how we are doing. Ideally, you will not only come away from the trip with many quality images, but also with some how-to knowledge that you can apply in the future while out shooting and when doing your own post-processing.
Still have questions about this tour?